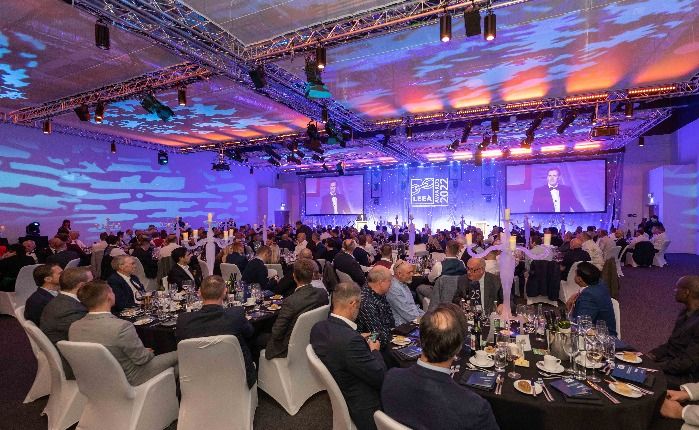 03/04/2023
The fifth annual LEEA Awards plays a vital role in promoting the gold standard offered by LEEA members. The finalists and award winners will be recognised by fellow members and customers as among the best companies in the industry.
By entering the awards you will raise your profile as a successful business or operator and a leader in your award category, while also rewarding your teams and celebrating your achievements. Successful entrants will receive valuable editorial coverage in The Lifting Engineer publication, both in print and online, and gain endorsement from an independent panel of industry experts.
The award categories, which demonstrate the diversity of talent and achievement attained by LEEA members, are as follows:
The Sustainable Award. This category will be of particular interest to members who have created a solution, service or product aimed at reducing environmental impact. Entries for this award are expected to highlight how the member has used less energy, incorporated different and better materials, improved measuring and monitoring or anything else that provides evidence of a desire to improve sustainability.  Through this award LEEA is keen to recognise and celebrate how our members are developing environmentally considerate offerings to end users. 
Innovation (Product) Award. Members who have launched a new product to market since January 2022 are invited to enter this award. The award champions real innovation, so applicants are encouraged to show clearly how their solution solves issues and challenges in a new and innovative way.  Judges will be looking for a product that either makes significant improvements to a pre-existing solution or, alternatively, is a brand new product.  Applications showing how a product is pushing the envelope in terms of innovation will be highly regarded.
Innovation (Service) Award. This is the twin award to Innovation (Product) and is seeking exactly the same criteria but in relation to innovative service.
Lifting Operation Award. This category recognises an incredible lifting operation and should be of particular interest to anyone involved in installation. The award is aimed at engineering teams that have completed an incredible piece of lifting that has defied challenges such as space, inclement weather, height, size or weight.   
Safety Award. This award is aimed at any intervention that has clearly and directly made our industry safer. This could be a new product or, more likely, it may be internal processes that have effectively managed risk – such as training, records, communications or updates.  Staff responsible for Health and Safety, as well as compliance should look to apply for this award.
Rising Star. This award goes to a colleague, wherever they are in the business, who is showing real excellence. The winner must have been working for the firm for less than three years at the time of application.  We anticipate that every LEEA member must have a possible applicant and strongly encourage our members to nominate a candidate.  We will be looking for evidence of excellent performance, demonstrable progress and high expectations for the future.  This award is applied for on the candidate's behalf. 
Industry Leader. This category is aimed at senior level executives who have driven their company forwards. Candidates should be able to show evidence of leadership and dynamism, which has resulted in growth of their company.  This is not an industry ambassador award, instead we are looking to recognize and celebrate a leader in our membership who has been extremely effective in improving and growing their firm.  We expect Managing Directors and Directors to be interested in this category.
Lifting Equipment Technician. This is our award for colleagues in the industry who are actively engaged in day-to-day equipment engineering. We are looking to celebrate a brilliant technician who has done great things and expect that inspectors and examiners will be applying for this award.


Best Trainer. In this category, LEEA wishes to celebrate the industry's trainer of the year. The trainer will have received outstanding student feedback and be an exemplary employee.  This category is limited to members of the Accredited Training Scheme and we strongly encourage ATS members to have their trainers apply for this prestigious award.


People Development. In this category LEEA wants to acknowledge and celebrate a member company that has demonstrated great achievement in developing its people. We look forward to receiving applications from training managers, HR professionals and others who have found successful ways to recruit, retain or develop their staff.  We expect this award will be won by a really dedicated team or an individual who has supported their colleagues in developing their career in such a way that they clearly deserve industry-wide recognition.
Making applications for the LEEA Awards 2023 could not be easier and entries can be made in multiple categories if wished. There is advice and guidance on how to open an account and start making nominations on the registration page at awards.leeaint.com. The portal enables applicants to track their entries and to save the entry to add to and submit later. The nomination portal will close for award entries on Monday 21st August 2023.
Don't hesitate in making your entry to ensure your nomination has a chance of winning a prestigious LEEA Award.