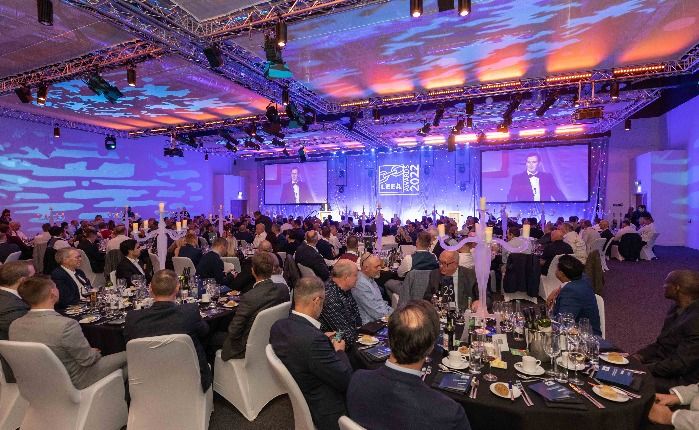 20/10/2022
The fourth annual LEEA Awards winners were announced at the Awards Ceremony, held at P&J Live in Aberdeen on 5 October 2022.
LEEA CEO Ross Moloney was host for the night along with special guest London-based Irish comedian Jarlath Regan. 
Congratulating the winners and thanking the sponsors and all those who entered, Moloney said: "The LEEA Awards continues to develop as a chance to give people, companies and colleagues who have made significant contributions to lifting standards in our industry the recognition they deserve. They play a vital role in promoting excellence to customers and supply chains around the world, as well as encouraging new recruits. I am pleased to say that we received an outstanding level of entries. Through rewarding the best of the best, the LEEA Awards broadcasts the positive signal that our industry is coming together to celebrate the raising of standards."
The winners of the LEEA Awards 2022 are as follows:
The Stuart Everitt Award for Outstanding Contribution to LEEA, given at the will and recommendation of the LEEA Board, went to Richard Money, former chair of the LEEA Board.
Best Digital Innovation, which recognises a product or service that highlights successful digital innovation, was presented to Select Plant Hire. LMS (Load Monitoring Systems) was runner-up.
The Outstanding Apprentice Award recognises talented apprentices who have demonstrated an outstanding commitment to their professional development in the lifting equipment industry and was awarded to Lewis Barr of GAP Group. Kai Carrick of Sunbelt Rentals was the runner-up.
Best Accredited Training Scheme Member recognises innovative approaches to ATS scheme membership and service delivery excellence. It was presented to GGR Group, with JCD Training Ltd runner-up.
The Rising Star Award, for an individual who has demonstrated excellence in their work at the beginning of their career in the lifting equipment industry and exceptional talent that will support their career development, went to Connor Prentice of EMCOR UK - Aviation Services, with Tyler Spendiff of GAP Group as runner-up.
LEEA Member of the Year, bestowed to the member who has demonstrated outstanding commitment to lifting standards in the lifting equipment industry, was awarded to the LEEA Regional Council of Australia and New Zealand.
The Robert Gordon University Award was presented to Adam Blaikie for his final year project which was based on comparing the analysis methods used to determine the allowable sea states and loading on structures during subsea deployment.
Best Contribution to GLAD Award went to Crosby Group. 
The Kevin Holmes Award for Excellence in People Development recognises HR professionals and training leaders who demonstrate excellence in supporting and facilitating the continual professional development of their teams. It was presented to Tony Bergman of Shell and the runner-up was Nicola Tocher of First Integrated Solutions.
LEEA CEO's Award, which goes to an exceptional individual or company who did something particularly notable in line with LEEA's aspirations, was presented to Jonathan Djanogly MP.
The Craig Morelli Award – Accredited Training Scheme – Best Trainer focuses on LEEA's Accredited Training Scheme and the professional trainers delivering high quality end-user training courses. It went to Rob Ballantyne of GGR Group, with Andy Dowd of Speedy Hire named runner-up.